Corby Air Cadets in Sporting Success
Over the last month, cadets from 422 (Corby) Squadron Royal Air Force Air Cadets (RAFAC) have been putting their teamwork and sporting skills to the test.
February saw the Squadron compete at the annual South and East Midlands Wing Cross Country Championships at Ratcliffe College in Leicestershire.  The competition, involving 28 other Squadrons from the Wing, saw the Squadron come in 5th place overall improving on last year's 6th place.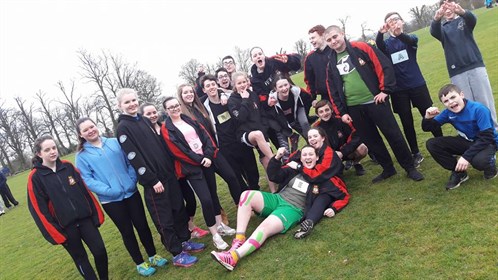 Cross Country Team 2017
A fantastic result, with Flight Sergeant Emma Beadsworth and Cadet Reece Pollen also being selected to represent the Wing at the Inter-Wing Cross Country Championships at RAF College Cranwell.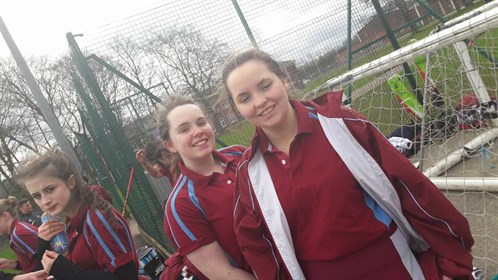 Cdt McNeill and FS Pavitt
Flight Sergeant Eve Pavitt and Cadet Emma McNeill also represented the Wing at the Inter-Wing Hockey Competition at Cranwell in February, both bringing home bronze medals for their efforts.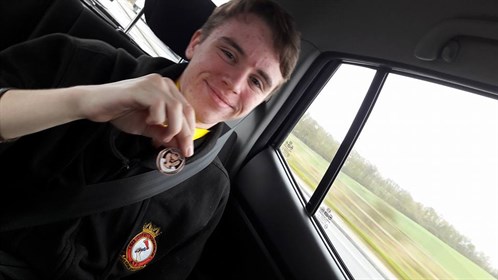 Cpl Tilley with his bronze medal
In March, Corporal Jason Tilley and Cadet Reece Pollen represented the Wing at the Inter-Wing Boys Hockey Championships at RAF Wyton with both also being awarded bronze medals.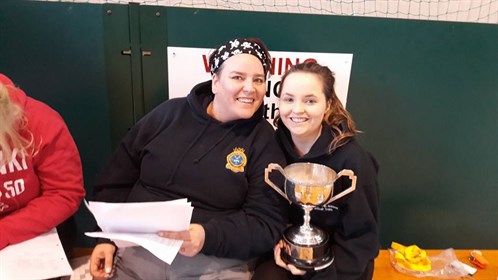 FS (ATC) Coles and FS Pavitt with the netball trophy
Cadet Lucy Kendall was also at RAF Wyton that day representing the Wing at the Inter-Wing Junior Netball Championships helping bring home a 1st place win for the Wing, with our very own FS Pavitt helping coach the team on the day.
Flight Lieutenant Kev Ritchie RAFVR(T), Commanding Officer of the Corby Air Cadets said, "What a truly fantastic show of sportsmanship and comradeship from the cadets, it does go to show that hard work pays off.  I must also thank CI Clare Pavitt for managing the Cross Country team and all the hard work in getting the cadets to trials leading up to these events".
If you're aged between 12 (School Year 8) and 16 and are interested in becoming a Royal Air Force Air Cadet, 422 (Corby) Squadron are holding an Open Day on Saturday 22nd April 2017 from 10am to 2pm at their Squadron Headquarters on St. Mark's Road.
For more information about 422 (Corby) Squadron, you can call the Squadron on 01536 601615 or click here.
Return to the Previous Page