Competition Success for Corby Air Cadets
On Sunday 3rd July, 422 (Corby) Squadron Royal Air Force Air Cadets attended the South and East Midlands Wing Annual Wing Field Day competition at RAF Wittering.
Here, the cadets had the opportunity to showcase the hard work they had put in over the last 3 months leading up to the competition.  Competing against 28 other Squadrons in the Wing in events such as drill, first aid and target rifle shooting to name a few.
The Wing Field Day team showed great teamwork and camaraderie throughout the fabulously sunny day, supporting each other at their respective events.
Following the announcement of the results and to the excitement of the cadets, their hard work had certainly paid off, placing 7th in Target Rifle Shooting, 10th in Drill, 10th in Aircraft Recognition, 6th in Media, 5th in the Padre's Cup and 4th in the Banner competition.  Placing them 7th overall out of 29 Squadrons!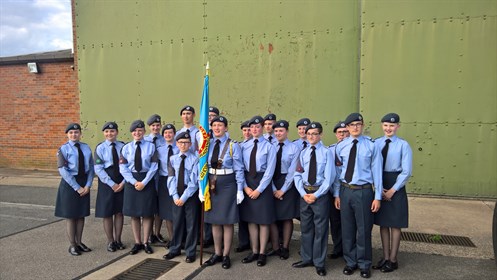 Furthermore, for the Auster Trophy competition which sees Squadrons marked on their performance throughout the previous year, saw the Corby based Squadron come 3rd overall for Training Achievement, 7th overall for Sporting Achievement and 2nd overall for Community Service during 2015. This placed the Squadron 2nd overall in the whole of the South and East Midlands Wing!
Squadron Commander, Flight Lieutenant Kev Ritchie RAFVR(T) said, "The cadets and staff have put in a tremendous amount of effort over the past year and also leading up to Wing Field Day.  Their efforts have certainly paid off.  What a fantastic set of results and ones the team should be rightfully proud of."
If you're aged between 12 (School Year 8) and 16 and are interested in becoming a Royal Air Force Air Cadet, 422 (Corby) Squadron are holding an Open Day on Saturday 10th September 2016 from 10am to 2pm at their Squadron Headquarters on St. Mark's Road.
For more information, you can call the Squadron on 01536 601615 or click here.
Cadet Flight Sergeant Emma Beadsworth
NCO IC Media and Communications
Return to the Previous Page