Corby Air Cadets Assist at RAF Wittering's Families' Day
On Saturday 4th June 2016, 422 (Corby) Squadron Royal Air Force Air Cadets joined with 2071 (Stamford) Squadron to help out at Royal Air Force Wittering's Annual Families' Day.  This is where the station celebrates the commitment and hard work undertaken by both its personnel and their families.
The cadets worked hard throughout the day to ensure the event ran smoothly, manning blockades, marshalling and even helping out in the VIP tent!
As the afternoon progressed, 422 (Corby) Squadron made a guard of honour to welcome the Queens' Colour Squadron to the parade square. They were very pleased to get a front seat view of the team they had watched practice only a few days before!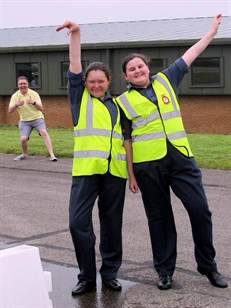 "It was really interesting to watch the Queen's Colour Squadron perform the sequence we had seen them work on and the Royal Air Force Colleges' band were very impressive." said Cdt Jason Tilley.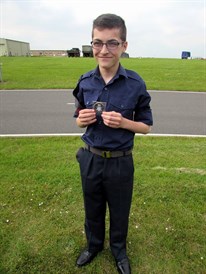 After forming a guard of honour on both parties exit, they continued with their work as they were treated to a flypast of the Harriers, a Spitfire and a Hurricane from the Battle of Britain Memorial Flight (who the cadets visited a couple of months back) and the stations' own Grob Tutors.
Thanks to the cadet's efforts, the day ran smoothly and they have been invited back next year.  Also congratulations to Cadet Joseph Curry who was awarded a prize for his outstanding effort throughout the day.
Well done 422, keep up the hard work!
Flight Sergeant Emma Beadsworth
NCO IC Media and Communications
Return to the Previous Page