Corby Air Cadet Drums to Success with the National Marching Band
From 2nd - 9th April 2016, Cpl Hannah Eden of 422 (Corby) Squadron Royal Air Force Air Cadets, spent the week at RAF Halton with the National Marching Band of the Air Cadet Organisation (ACO).
The week consisted of several drill sessions, sectional rehearsals, full band rehearsals and learning correct band drill. All of this was in preparation for several performances that the band are doing throughout the year, as well as the final parade that took place at the Recruit Training Squadron (RTS) on Friday 8th April 2016. This parade was in front of some RAF personnel as well as the family and friends of cadets taking part.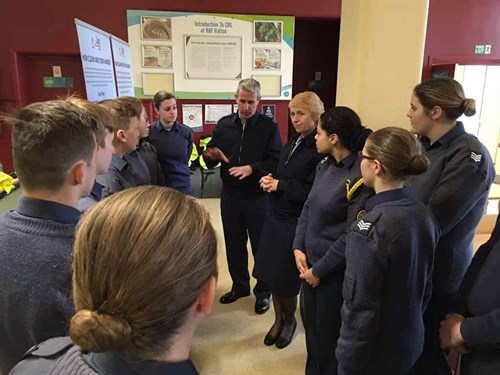 Cpl Hannah Eden meeting Commandant Air Cadets
During the week, the band also had a visit from Commandant Air Cadets in their rehearsals, and she told the cadets that she thoroughly enjoyed her time there, and can't wait to see them perform again in the Summer Extravaganza at RAF Cranwell.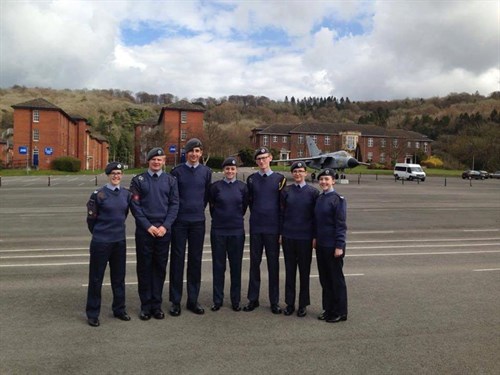 Cpl Hannah Eden (center) with other cadets from South and East Midlands Wing
Cpl Eden said "It was an extremely busy week, but totally worth it. I made some great friends and learnt a lot of skills that I will be able to use again in the future. I'm really looking forward to performing with the band again later this year."
Cpl Eden will be taking part in the St George's Day Parade at The Cenotaph in London with the band at the end of this month.
Return to the Previous Page