Corby Air Cadets Parade in Lincoln
It was Sunday 16th October, a cold and wet autumn morning and for nine dedicated people from 422 (Corby) Squadron Royal Air Force Air Cadets, it was time to dust off the sleep and rise to the challenge of the day.
For they were set to travel 121 miles to Lincoln with their colleagues from South and East Midlands Wing to take part in Central and East Region's celebration parade marking the 75th Anniversary of the Air Training Corps.
First stop was RAF Scampton; the home of the Red Arrows, from where such heroes as Wing Commander Guy Gibson have flown.  If you closed your eyes and listened carefully I am sure you could hear the roar of those Merlin engines powering the Lancaster's as they reached for the sky.
We all had something to eat, stretched our legs and sorted our uniforms and checked off.  We departed for Lincoln Cathedral in which thanks were given for all that the organisation had achieved and will go forward to achieve in the future.
We came out of the Cathedral and mustered by Wing.  As the six Wings turned as one to the right to set off for the Castle, the band struck up and off it was up Minster Yard, down Priory Gate across East Gate winding their way to the Castle.
Air Commodore McCafferty; Commandant Air Cadets, and Mr Toby Denis, Lord Lieutenant of Lincolnshire took the salute as 800 Cadets and Cadet Forces Adult Volunteers paraded proudly into the castle grounds.
And then it was all over, one last moment for a quick snap and it was back to change and the long journey home.  Well, we started with a cold and wet morning but the sun came out for us, maybe just to say a thank you to the outstanding organisation the Air Cadet movement is.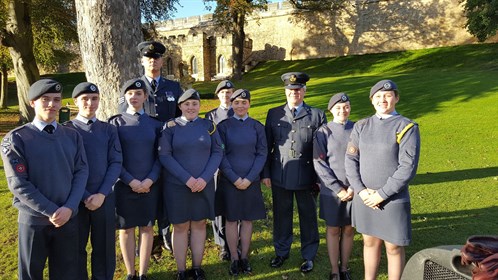 The parading nine from 422 (Corby) Squadron were Pilot Officer Phil Ewers RAFVR(T), Cadet Flight Sergeant Rebecca Mabbutt, Cadet Sergeant Emily Russell, Cadet Sergeant Eve Pavitt, Cadet Corporal Natalie Bristow, Cadet Courtney Curry, Cadet Jason Tilley, Cadet Ben Wheatcroft and Cadet Recce Pollen.
Pilot Officer Phil Ewers RAFVR(T)
Return to the Previous Page