Gliding Simulation for Corby Air Cadets
On Saturday 9th January 2016, Cpl Kendall, Cpl Rhodes and Cdt Wilson attended a Pre-Gliding Scholarship course at RAF Wyton's Regional Activity Centre. 
It was a day long course that consisted of learning how to take-off, fly and land in simulators. Cadets also had to be able to read the instruments accurately and do the pre take-off checks. 
All cadets passed the course with 'flying' colours which will now give them the confidence to take on the Gliding Scholarship course.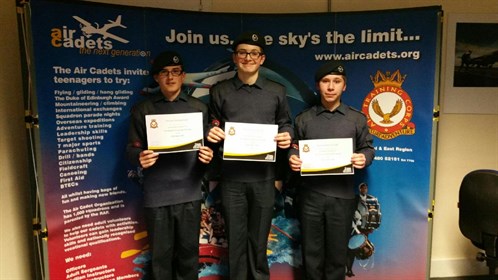 Pitcured from left to right, Cdt Dylan Wilson, Cpl Harry Kendall and Cpl Will Rhodes
If you're aged between 12 (School Year 8) and 16 and are interested in becoming a Royal Air Force Air Cadet, 422 (Corby) Squadron are holding an Open Day on Saturday 2nd April 2016 from 10am to 2pm at their Squadron Headquarters on St. Mark's Road.
For more information, you can call the Squadron on 01536 601615 or click here.
Return to the Previous Page