Corby Air Cadets attend Holocaust Memorial Day Service
On Sunday 24th January, cadets and staff from 422 (Corby) Squadron Royal Air Force Air Cadets attended a Holocaust Memorial Day Service organised by Corby Borough Council.
Holocaust Memorial Day takes place on 27th January each year to coincide with the liberation of Auschwitz-Birkenau.  It's a time for everyone to pause and remember the millions of people who were murdered or whose lives were changed beyond recognition during the Holocaust, Nazi Persecution and in subsequent genocides in Cambodia, Rwanda, Bosnia and Darfur.
The message for this year's memorial was "Learning lessons from the past to create a safer, better future".
After a short welcome and introduction from Councillor Elise Elliston and reading by students from Lodge Park Academy, guest speaker, Joanna Millan gave a very thought provoking account of her time at Theresienstadt concentration camp in the Czech Republic.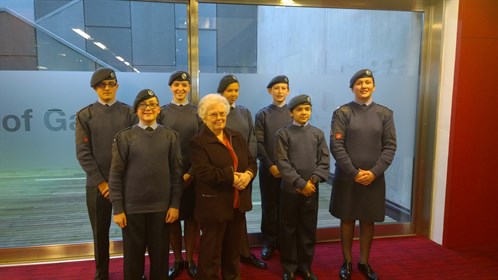 The cadets and staff had the opportunity to talk with Mrs Millan after the service and asked many questions about her time in the concentration camp.
They thanked her for such a fascinating talk and learned a great deal from service.
Return to the Previous Page