Wheelie Good Show for Wings Appeal
On Saturday 12th September 2015, cadets and staff from 422 (Corby) Squadron Royal Air Force Air Cadets took part in a sponsored static bike ride at their local Tesco Extra supermarket in aid of the Royal Air Forces Association (RAFA) Wings Appeal for the 75th anniversary of the Battle of Britain.
Using five static bikes with turbo trainers kindly supplied by Halfords in Corby and Northampton, each cadet and staff member aimed to cycle an accumulative total of 685 miles over a twelve hour period.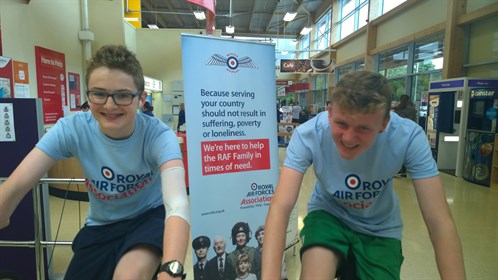 Their impressive display of teamwork meant they managed their goal of 685 miles in eleven hours forty minutes.  The 685 mile challenge represented the distance from 422 (Corby) Squadron headquarters in St. Marks Road, round all the ten active RAF Stations in No12. Group; which defended the East Midlands and East Anglia 75 years ago, back to the Squadron headquarters.
As the day went on, members of the public took an interest in the challenge by sharing their own stories of life in the military and showing their support by donating to the RAFA Wings Appeal and offering words of encouragement.
After completing the challenge, Cpl Hannah Eden said "It was a brilliant experience and was a great way to raise money for charity. Everybody was so pleased and proud once we had completed it".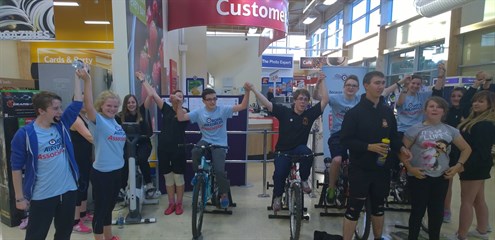 Shoppers were incredibly generous with more than £370 being raised on the day. This, along with pledged sponsorship still to be collected, means the Squadron are now well on their way to raising over £1000 for the charity.
Officer Commanding, 422 (Corby) Squadron, Flight Lieutenant Kev Ritchie RAFVR(T) said, "What an outstanding achievement by the team and to complete it within the twelve hours is truly amazing.  The camaraderie shown on the day was great to see, they certainly rose to the challenge".
The Squadron would like to offer their thanks to Tesco Extra Corby and Halfords (Corby and Northampton) for playing their part in this challenge, without their assistance the event would not have been possible.
Cadet Sergeant Beadsworth
NCO IC Media & Communications
Return to the Previous Page