Proud Moment for New Corby Air Cadets
Thursday 19th November 2015 was a very special day for 33 Corby Air Cadets as they were officially enrolled into the Air Cadet Organisation by the Squadron Padre, Rev. Paul Frost and Commanding Officer, Flight Lieutenant Kev Ritchie RAFVR(T).
At the start of the evening parents, families and friends met with the current cadets and staff of the Squadron, which was a great opportunity for them to find out what will be available to the new cadets when they have been enrolled.  Meanwhile, the latest intake were having a pre-enrolment talk with the Padre.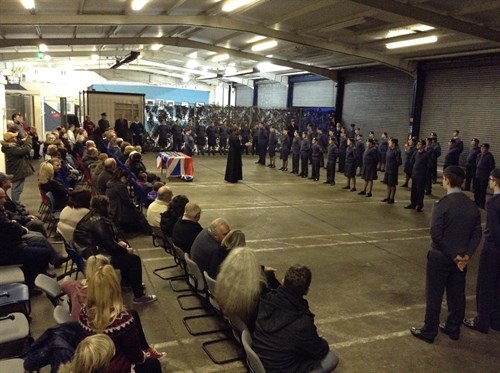 The second part of the evening started with the Commanding Officer inspecting the Squadron and then handing over to the Padre, who explained the Air Cadet's Core Values of Respect, Integrity, Service and Excellence.
After his talk and a welcoming prayer, the latest intake were called out individually to receive their Record of Service Books (3822), in presence of the Squadron, family, friends and Commanding Officer.
The ever-growing 422 (Corby) Squadron welcomes and congratulates every newly enrolled cadet on becoming a member of the Air Cadet Organisation.
Cadet Sergeant Beadsworth
NCO IC Media & Communications
Return to the Previous Page