Corby Air Cadets compete at annual Athletics Competition
422 (Corby) Squadron Royal Air Force Air Cadets athletics team spent today competing against 28 other Squadrons at South and East Midlands Wing annual athletics competition.
Competing in a variety of track and field events, Corby Air Cadets showed great teamwork and determination, making it into 5 finals.
Their hard work paid off, with cadets being selected to represent the Wing Team at 400m, 800m and 4x100m relay.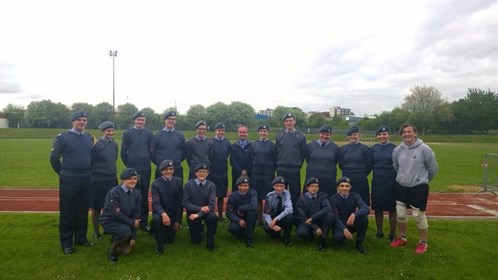 422 (Corby) Squadron Commanding Officer, Flight Lieutenant Kev Ritchie RAFVR(T) said, "The cadets showed great team spirit today and should be as proud of their achievements as I am."
The wait is now on for the final results!
If you're aged between 12 (School Year 8) and 16 and are interested in becoming a Royal Air Force Air Cadet, 422 (Corby) Squadron are holding an Open Day on Saturday 3rd October 2015 from 10am to 2pm at their Squadron Headquarters on St. Mark's Road.
Return to the Previous Page