Corby Air Cadets Flying High after Annual Wing Field Day Competition
On Sunday 7th July 2015, cadets from 422 (Corby) Squadron Royal Air Force Air Cadets travelled to RAF Wittering to compete against 28 other Squadrons in the South and East Midlands Wing Annual Wing Field Day Competition.
Squadrons compete in various activities including drill, target rifle shooting, leadership and first aid to name a few.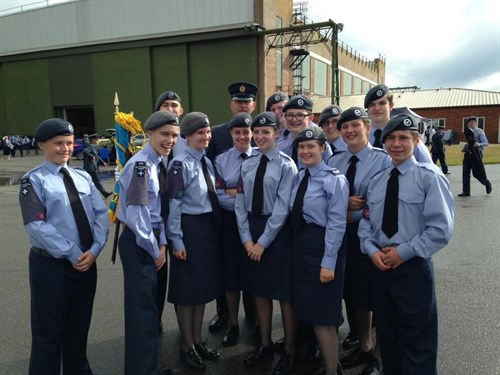 Some of the 2015 drill team
The day proved long and arduous and despite the rain, morale stayed high as always and it really showed in the results.
For the Padre's Cup, Squadrons had to write two prayers and answer questions about RAF Wittering, the team came in 3rd place overall.  Other notable achievements included placing 4th in the Leadership competition, 7th in the First Aid competition, 8th in the Target Rifle Shooting competition and 14th in the Drill competition, giving the Squadron an overall place of 11th out of 29 Squadrons on the day.
However, the successes didn't stop there.  Throughout the previous year, each Squadron is assessed on its training achievement, sporting achievement and community service, points for which are put towards the Auster Trophy competition.  2014 proved a great year for 422, placing 3rd for training achievement and 3rd overall in the Auster Trophy competition, making 422 (Corby) Squadron the 3rd best Squadron in South and East Midlands Wing in 2014 and the best Squadron in Northamptonshire.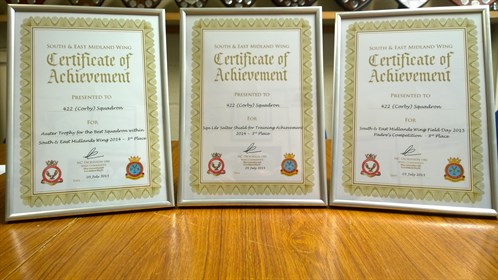 Certificate haul from Wing Field Day 2015
Cadet Ashlee Wright said, "All the hard work we put into Wing Field Day really paid off.  Roll on next year!"
Back at the Squadron, cadets were treated to pizzas by the Commanding Officer after the huge success at Wing Field Day.
Commanding Officer, Flight Lieutenant Kev Ritchie RAFVR(T) said, "I am so proud of the continued effort and teamwork the cadets show in their approach to the opportunities and events the Air Cadet Organisation has to offer.  To move from 26th place to 16th and now to 3rd overall in the Auster Trophy competition is testament to the hard work and commitment the cadets give to their Squadron, they should be rightly proud of their achievement".
Cadet Sergeant Emma Beadsworth
Squadron NCO IC Media and Communications
Return to the Previous Page