Corby Parcel Shop helps deliver new sports kit for Corby Air Cadets
Cadets and staff at 422 (Corby) Squadron Royal Air Force Air Cadets realised their dream of purchasing their very first Squadron tracksuits with the help of local business Corby Parcel Shop (Consolidated Parcels).
Bill Allan, General Manager at Corby Parcel Shop, very kindly made a donation to the Squadron to allow them to purchase the new tracksuits.  Bill commented, "My son was part of 422 Squadron during his teenage years and he benefited tremendously from both the activities he took part in and the disciplined comradeship within the squadron. As a local business we wanted to put something back into the community and saw fit that 422 (Corby) Squadron would benefit from the additional support that local businesses could offer".
Flight Lieutenant Kev Ritchie RAFVR(T) said "We would like to thank Bill and the team at Corby Parcel Shop for their very kind donation to the Squadron.  The cadets can't wait to wear their new tracksuits with pride at the next Wing sports event, this will only help to bond the team further".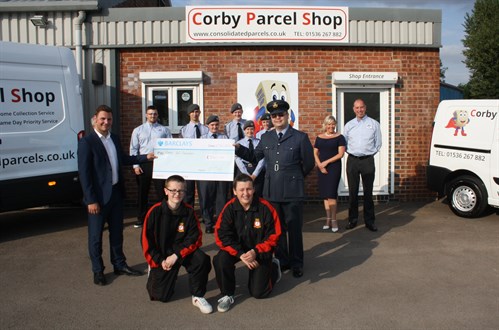 If you're aged between 12 (School Year 8) and 16 and are interested in becoming a Royal Air Force Air Cadet, 422 (Corby) Squadron are holding an Open Day on Saturday 3rd October 2015 from 10am to 2pm at their Squadron Headquarters on St. Mark's Road.
For more information, you can call the Squadron on 01536 601615 or visit their website at www.422corbyatc.co.uk/how-to-join.aspx.
Return to the Previous Page