MOT for Corby Air Cadets
On Thursday 29th January 2015, 422 (Corby) Squadron Royal Air Force Air Cadets played host to Corporal Luke Collins from RAF Wittering's Motivational Outreach Team (MOT).
The purpose of Cpl Collins's visit was to give the cadets an insight into life in the Royal Air Force through a variety of fun teamwork and leadership based tasks, from simple trust exercises to building the tallest structure.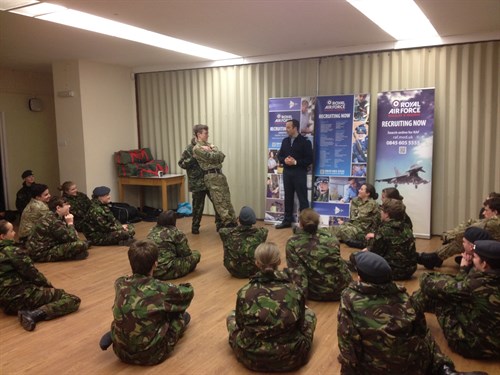 Commanding Officer of 422 (Corby) Squadron, Flight Lieutenant Kev Ritchie RAFVR(T) said "The teamwork and leadership tasks, while great fun, also teach the cadets about listening and effective communication, skills that are useful in both Service or civilian life.  The cadets were certainly engaged throughout the tasks and learned a great deal".
The evening finished with a presentation on the Royal Air Force and what career opportunities are available to the cadets.  This gave the cadets a chance to quiz Cpl Collins on their chosen career path and how they would best achieve it.
Cadet Ashlee Wright said of the evening, "Cpl Collins had us doing all sorts of activities all about the essentials of team work, 'Listening'; 60% of communication, 'Trust'; without it there are no teams, we had great fun. The best came last as we had a chance to quiz the Cpl on life in the RAF and how we could become part of it. Come back soon Cpl Collins".
If you're aged between 12 (School Year 8) and 16 and are interested in becoming a Royal Air Force Air Cadet, 422 (Corby) Squadron are holding an Open Day on Saturday 11th April 2015 from 10am to 4pm at their Squadron Headquarters on St. Mark's Road.
Return to the Previous Page