Corby Air Cadets assist at WW1 Relatives' Tea
Cadets from 422 (Corby) Squadron Royal Air Force Air Cadets recently assisted at a World War One Relatives' Tea hosted by Corby Mayor, Councillor Anthony Dady.
On arrival at St John's Church in Corby Old Village, the cadets joined with guests from Corby and surrounding areas in a short ceremony at the Cenotaph to remember those that were involved with and lost their lives in the Great War.  A reading from the Bible was given by Cadet Hannah Eden.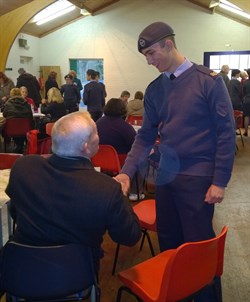 Following the ceremony, tea and cake were served in the Church Hall by the cadets of 422 (Corby) Squadron, during which the Co-operative Corby Ladies Choir sang a medley of First World War songs and Mr Billy Dalziel from the Corby Heritage Museum gave a short talk on the history of Corby and its involvement in the war.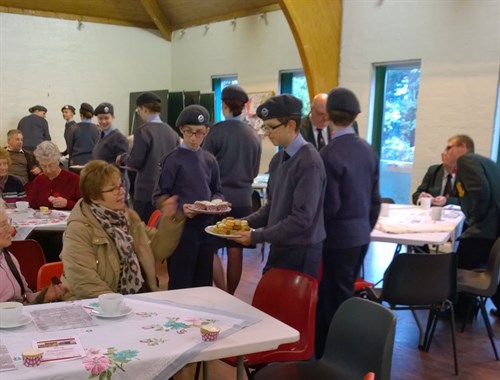 The cadets were very interested to learn about events that occurred in and around their town during the Great War.  Further details can be found on Corby Borough Council's website at http://www.corby.gov.uk/site-page/borough-stories-1914-1918.
The Reverend Paul Frost from St John's Church and 422 (Corby) Squadron Chaplain, said "Many thanks for the help of 422 (Corby) Squadron on Saturday – they did a wonderful job as usual!"
Return to the Previous Page