2nd Battalion Royal Anglian Regiment Home Coming Parade
On Monday 21st July, 200 Soldiers from the 2nd Battalion of The Royal Anglian Regiment, with bayonets fixed and flying Colours, marched through Corby Town Centre after returning home from tour in Afghanistan.  The Regiment were granted Freedom of the Borough back in 2012 and this is the first time that they have exercised their right to parade in the town.
Cadets from 422 (Corby) Squadron Royal Air Force Air Cadets were in attendance on the day providing VIP escort to the dignitaries present, including the Lord Lieutenant of Northamptonshire, Mr David Laing, Brigadier Wild MBE of The Royal Anglian Regiment, the High Sheriff of Northamptonshire, Mrs Anne Burnett and Mayor of Corby Borough, Councillor Anthony Dady.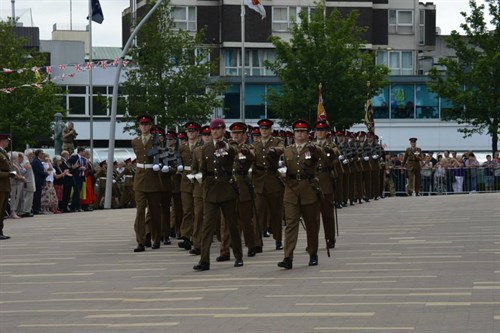 The cadets were commended on their confidence and professionalism during the event and again proved to be a real asset to the Squadron and Air Cadet Organisation (ACO).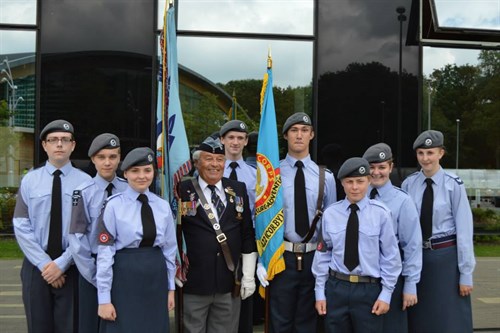 Flight Lieutenant Kev Ritchie RAFVR(T), Commanding Officer of 422 (Corby) Squadron said, "This is a poignant moment in the Town's history and it's a real privilege and honour to be asked to assist in the running of the event.
The cadets performed their duties with great professionalism and can be proud of their efforts in representing their Squadron and the ACO."
Return to the Previous Page