Packed ATC Sunday for Corby Air Cadets
Sunday 2nd February 2014 was a busy day for the cadets and staff of 422 (Corby) Squadron Royal Air Force Air Cadets, as they not only took part in a parade and Church service to celebrate the 73rd Anniversary of the formation of the Air Training Corps, they also sent eight excited cadets flying at RAF Wyton with 5 AEF (Air Experience Flight) and some for the very first time!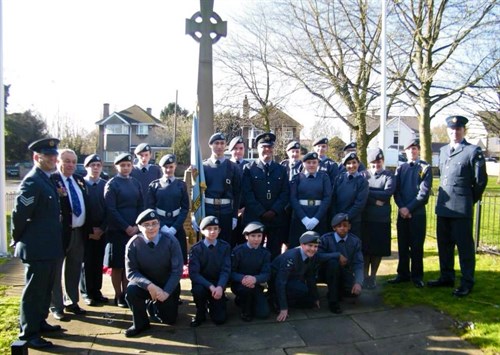 However, it didn't stop there.  CWO Joshua Loy and Sgt Andrew Mabbutt attended the second South and East Midlands Wing training session in preparation for the Nijmegen 100 mile road march in Holland and CI David McArthur completed the first of two weekends in a hope to gain his Range Conducting Officer qualification for Short Ranges.
Officer in Charge of 422 (Corby) Squadron, Pilot Officer Kev Ritchie RAFVR(T), said "ATC Sunday is an important date in the ATC calendar and what better way to spend it.  I am extremely proud of the efforts of the cadets and staff today, their enthusiasm for their Squadron and the Corps clearly showed through".
Return to the Previous Page