Highfliers Search for Litterbugs
Cadets from 422 (Corby) Squadron Royal Air Force Air Cadets joined in with local Police, PCSO's, Scouts, Councillors and Neighbour Hood wardens to take part in the 'Bin It' event held at Beanfield Community Centre.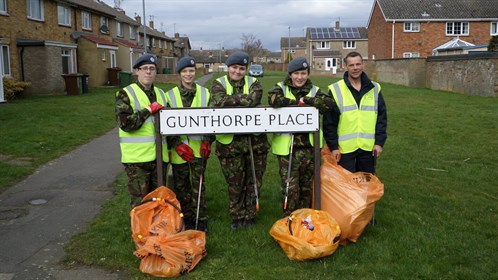 The event took place on Wednesday 19th February and the focus was to collect litter around the Centre and surrounding area.  After a brief health and safety talk the Cadets from 422 (Corby) Squadron donned high visibility jackets, gloves, litter pickers and bags to start the collection.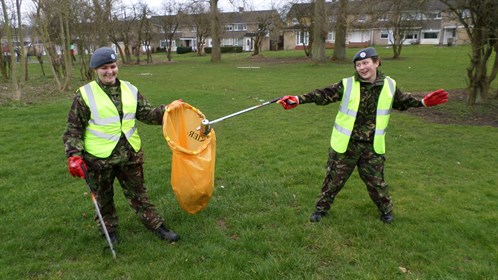 They were joined by Police Constable Chris Vickers from Corby Town Safer Community Team, Ivan Barkham Neighbourhood Warden and PCSO for Hazel Leys and Beanfield, Sue Newman.
Officer in Charge of 422 (Corby) Squadron, Pilot Officer Kev Ritchie RAFVR(T), said, "The Cadets have a high profile in Corby and were only too happy to assist with this community event.  It's great that so many volunteers came today to support this initiative."
Return to the Previous Page