Corby Air Cadets visit RAF Lakenheath
On Thursday 14th August 2014, cadets and staff from 422 (Corby) Squadron Royal Air Force Air Cadets paid a visit to the 48th Fighter Wing at Royal Air Force Lakenheath.  RAF Lakenheath, near Lakenheath in Suffolk, is the largest U.S. Air Force operated base in England and the only USAFE (United States Air Forces in Europe) F-15 Fighter Wing.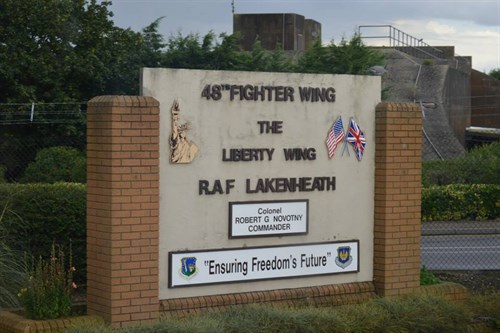 On arrival at the station, the cadets and staff were escorted by USAF (United States Air Force) personnel, Technical Sergeant Sasha Michaud and Airman First Class (A1C) Trevor McBride, to an aircraft hangar where displays by the Fire Section, Dog Section, Infantry and an F-15E Strike Eagle of Liberty Wing had been set up.
First up was a look around the fire and crash trucks, and for two lucky cadets, an opportunity to have a race to see who could get the fire equipment on the quickest.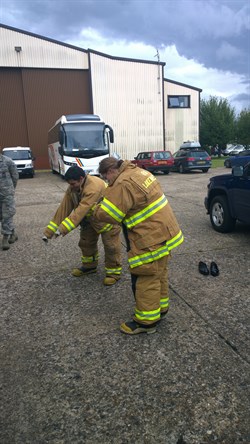 A demonstration of some of the weapons systems in use by the USAF was given by Sergeants Rhee, Church and Campbell, who had a great wealth of technical knowledge of the weapons and how they can be adapted for different situations.  Cadets then had the chance to have a closer look at some of the weapons, including the M4 and the M249 Assault Rifle.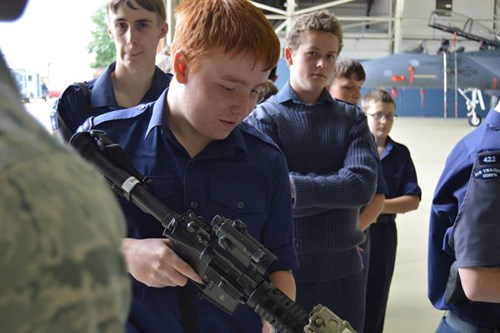 A great display by the dog handlers had the cadets and staff in awe at how well trained the dog was.  The handler demonstrated the different scenarios the handler and dog could potentially find themselves in, either on station or on deployment; most impressive of all was the vehicle extraction.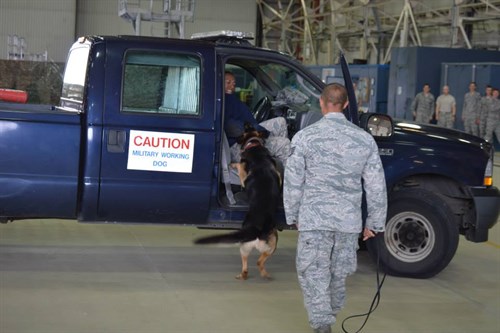 Finally, the cadets were given a talk on the F-15E by Major Krow, a Strike Eagle pilot, who explained what scenarios the aircraft would be commonly used in and, for the anoraks, the technical details of the jet.  Cadets and staff were then given the opportunity to take a closer look in the cockpit of the jet.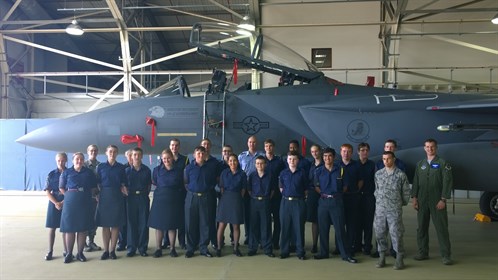 Flight Lieutenant Kev Ritchie RAFVR(T) said, "Visits like these are essential to the cadet experience and bolsters the subjects they are taught on Squadron.  It's great for them to see an operational station and I'm sure they all had a great time."
More pictures can be found on our Squadron Facebook page - here
Return to the Previous Page